Course Objectives
Increase Personal Income by Developing Subprime (Special Finance) Structuring, Presentation & Disclosure Skills!
Daily Skill Development Exercises Sent to any Mobile Device!
Advanced Lender Guideline Interpretation Skills - Choose the Best Lender for Every Situation.
The Reverse Sales Process - Lining Up Customers for the Right Vehicles From the Start.
100% CSI with All Subprime Customers to Obtain Unprecedented Referrals from Friends.
Skills for Obtaining and Interpreting Proof of Income, Proof of Residence, Time on Job and Residence Verifications, Tax Return Interpretations used by Lenders prior to Final Delivery of Vehicle.
Better Manage Bankruptcy, Charge-offs, Judgements, First Time Buyers, Self Employed, and Other Loan Underwriting Challenges that Provide Exceptional Profit and Relationship Opportunities!
Make More Deals, More Profits, and More Relationships with Special Finance Expertise.
Faster Funding and Contract in Transit Management for Maximum Cash Flow.
Graduates of this course earn certification in Subprime (Special Finance) Structures, Presentations & Disclosures
College of Automotive Management certificates are earned from verified skill development and 100% test scores.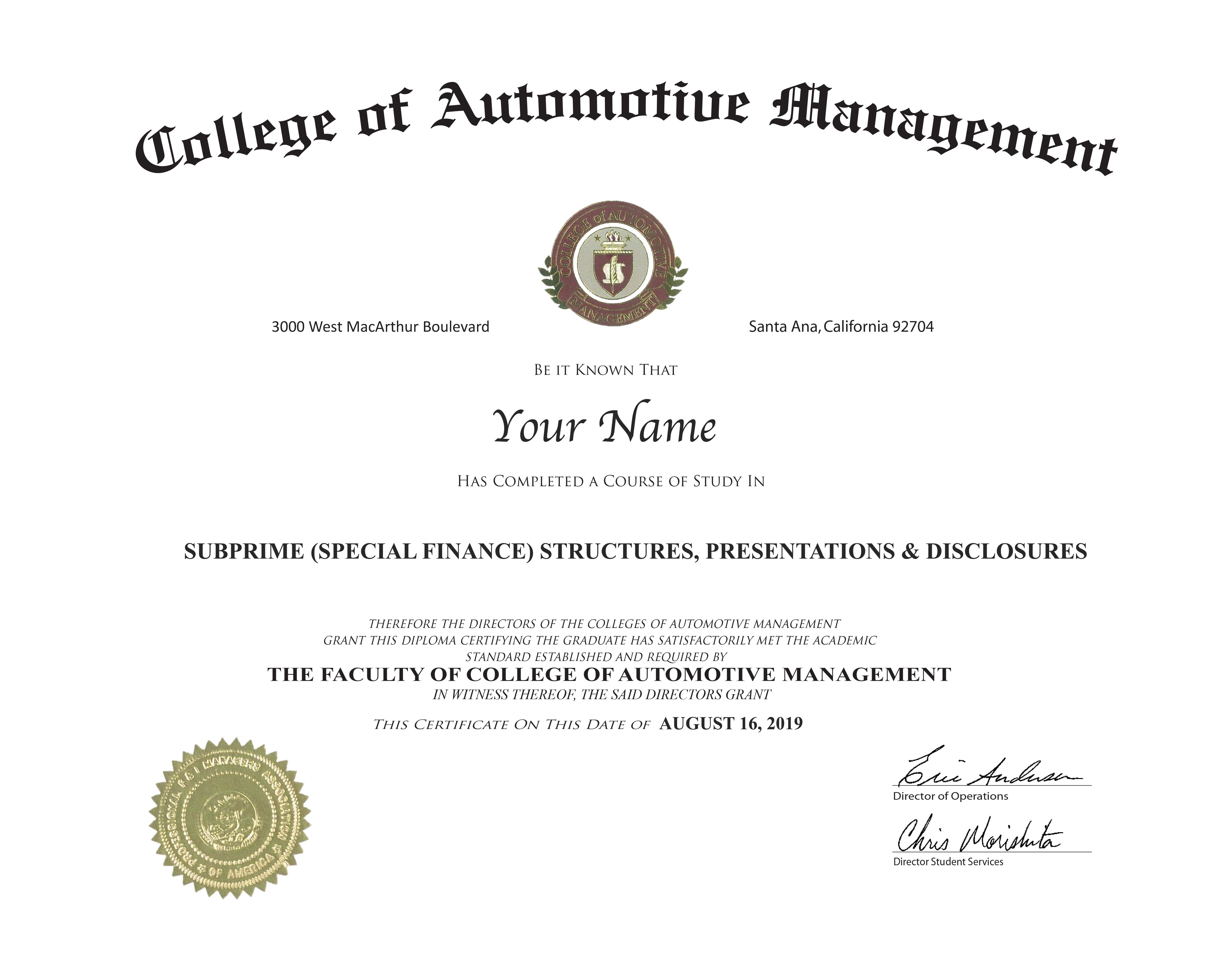 Reviews
"Special Financing I rate excellent. This course allowed me to understand specifically what subprime lending guidelines are, how to interpret the credit bureaus and how to view the app from the subprime lenders standpoint. Also, having a clearer understanding on each will help to sell the lender. Will this assist in the effort of selling more cars? Yes! Excellent! Good information all around. The setup of the course was easy to follow and I would recommend this to any person with 2 days into the business or 20 years in."
Jonathan Kaaihue, Finance Manager
"I am the GM. I think this was an excellent course and all desk and F&I Managers should be required to watch and learn it. Again, by having a great understanding of special F&I and knowing the bank programs you can structure a deal that will be very hard to TD. You have to know your programs and what bank you are designing the deal to go to up front."
Allan Jose, General Manager
"This is a very excellent course, and I know that I will benefit from it, much more so, for my dealership. I have already achieved improved closing ratio, improved gross, improved CSI, and happy customers."
Willford Solancho, Professional Salesperson
More information
Increase understanding of how to capture more of the local market share (including customers with less than perfect credit). This course provides detailed loan underwriting training, including training for structuring special finance loans. Special Finance training includes a "blue print" for setting up a special finance department, including marketing plans, inventory suggestions, and sales processes. Best practices are also provided to help maximize closing ratios and cash flow with sub-prime opportunities, while achieving a fully documented, 100% CSI rating.