Course Objectives
Increase Personal Income with Loan Underwriting and Finance Administration Skills.
The importance of Cash Flow to a Dealership (get everyone, including the owner paid faster!)
How/Why to address Credit Application, Credit Bureau and Loan Underwriting Abnormalities.
Contracts in Transit (CIT) Management
Loan Underwriting and Lending Guideline Interpretation for A/B Paper
Credit Bureau Analysis and Interpretation by Lenders
Common DMV Forms and Federal Disclosure Documents
Various Interest Rate and Rate Participation Calculation Methods Used by Lenders
Loan Packaging for Fast Funding
Lender Selection, Relations and F&I Director Skill Development
Graduates of this course earn certification in Loan Underwriting and F&I Administration
College of Automotive Management certificates are earned from verified skill development and 100% test scores.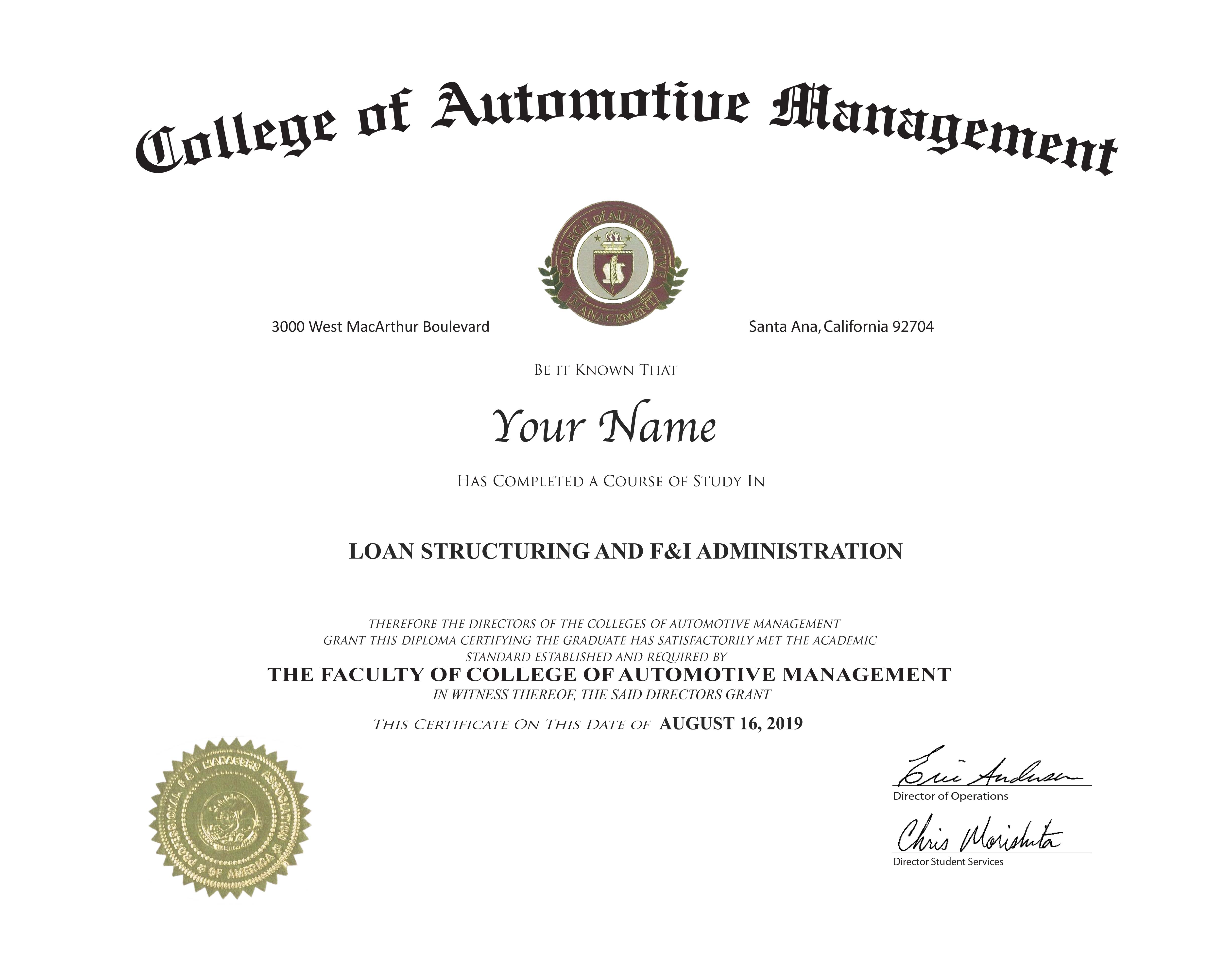 Reviews
"In taking this portion of this course on F&I Administration I have had the opportunity I feel to equip myself with the necessary tools and skills to eventually become F&I Director and eventually a Sales Manager at a dealership in the near future. I currently hold the position of F&I Manager and even though I have only been in this position for 14 months the material in this course has really expanded my understanding and view of F&I. Initially I was leery about this course but have come to find as I continue to go through it how excellent and up to date the information is. I would highly recommend this course to my peers in the industry."
Derrick Pettiway, F&I Manager
"I rate this course Excellent, It provides insight on information and best practices to generate the most income, and deal structures that are the most beneficial to the consumer."
Justin Hauglum, Sales Manager
"This course has shown me how banks look at and process information. It has also shown me how important every bit of information we can gather about the customer and their situation, can and will improve our chances of getting a deal bought the first time around. With this information the deals that become unwound should be minimized. The finance office should have a constant problem-free flow of deals to the banks. The C.I.T. rate should be very low."
Joe Moss, Professional Salesperson
"The course helps both Aloha Kia and myself to understand my role as an Finance Manager so that I may represent Aloha Kia to the best of my abilities. This course will also increase the revenue to both Aloha Kia and myself."
Myron Nakayama, Finance Manager
More information
The F&I administration course emphasizes the importance of cash flow to a dealership. It also provides best in class procedures to minimize contracts in transit and achieve the administrative objectives to operate a successful F&I office and improve lender relationships with higher loan approval ratios.